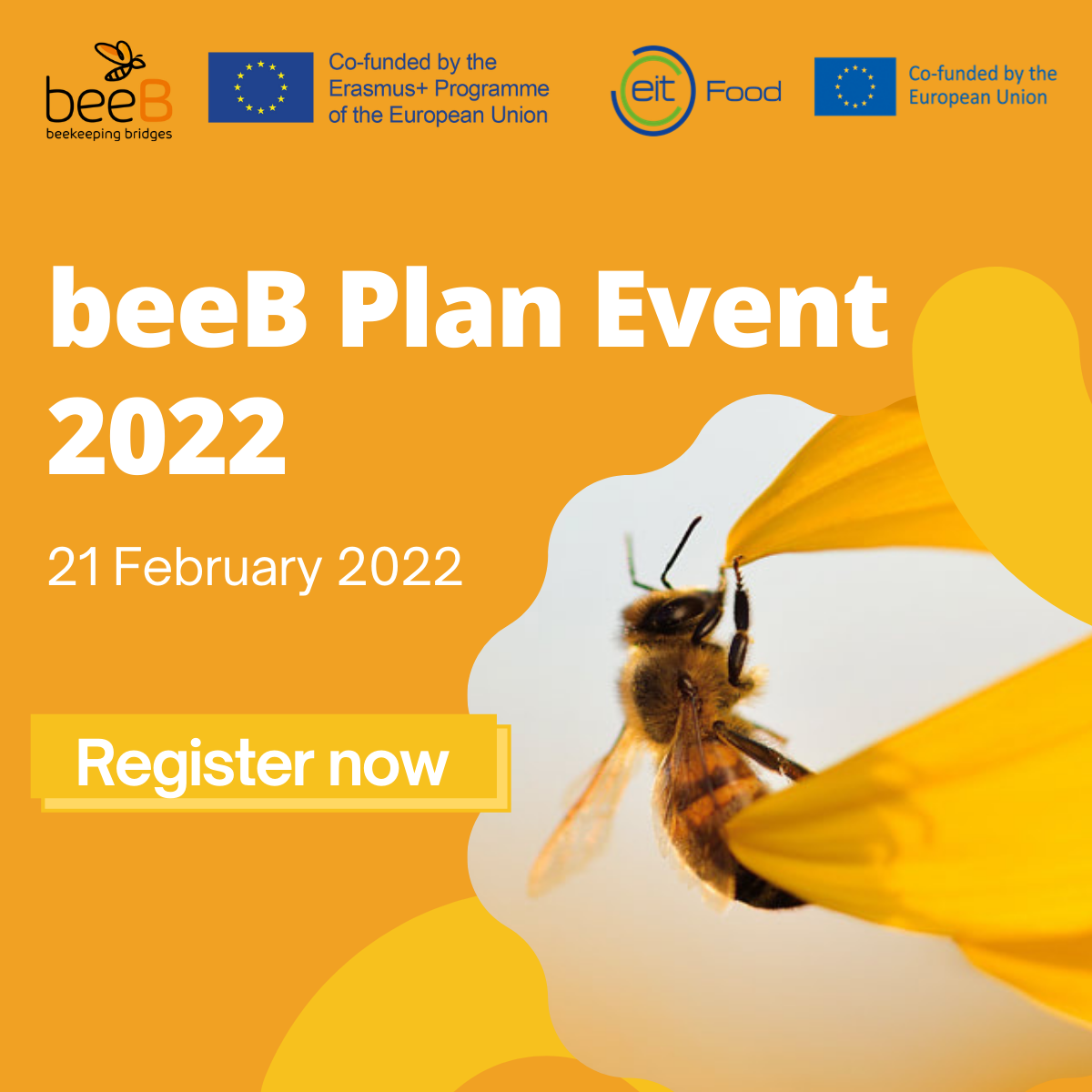 16 Feb

Register now for our beeB Plan Event 2022

Tera Tehnopolis d.o.o., the EIT Food HUB Croatia, organises a workshop named 'beeB Plan Event 2022' on 21 February 2022.

The event held within the beeB project is organised in synergy with the EIT Food initiative.

The project 'beeB – Foster for beekeeping bridges through innovative and participative training' focuses on the development of tools that will allow family beekeepers and other non-professional beekeepers to acquire skills in this area by using innovative and adaptive forms of training that are based on organic and good beekeeping practices. Six partners from six European Countries are carrying out this project: Norges Birokterlag Forening (Norway), EOSA – Estrategia y Organización SA (Spain), Eesti Maaulikool (Estonia), Bio-Distretto Cilento (Italy), Instituto Politecnico de Viseu (Portugal) and Tera Tehnopolis d.o.o. (Croatia). Within the framework of this project, Tera Tehnopolis is in charge of the entrepreneurial education of beekeepers.

The online workshop aims to promote and disseminate the project activities and intellectual results produced by the project so far. Besides the project partners, the speakers are: the representative of the Directorate for Professional Support to the Development of Agriculture at the Croatian Ministry of Agriculture, Croatian Beekeeping Federation, and beekeeping associations 'Pčela' and 'Dalmatina'. They will speak about the current trends in the Croatian beekeeping world, issues the beekeepers and their associations face and good practice examples. Innovations in beekeeping will also be discussed during the event.

The EIT Food activities in 2022 will also be presented during the event. EIT Food is Europe's leading food innovation initiative, working to make the food system more sustainable, healthy and trusted. Its mission is to connect companies, universities and research centres in Europe and foster entrepreneurship and innovations. The main goal of this pan-European partnership is to develop a highly qualified food sector that will cooperate with consumers on the development of products, services and new technologies, enabling a healthier lifestyle for all European citizens.

Moreover, through its numerous activities, EIT Food focuses on women entrepreneurs. Within the Empowering Women in Agrifood programme, it supports women entrepreneurship across Europe and broader. In line with that, Ms Martina Ćustić, the owner of the company named Zdrava Navika j.d.o.o., will attend the workshop as a guest speaker and share her experience as a Woman Entrepreneur of the Year candidate.

Beekeepers, beekeeping associations, beekeeping and agri-food experts, students and potential entrepreneurs are all invited to join us at the event and listen to engaging lectures.

Since the number of participants is limited, please register at the following link.

The agenda can be downloaded HERE.